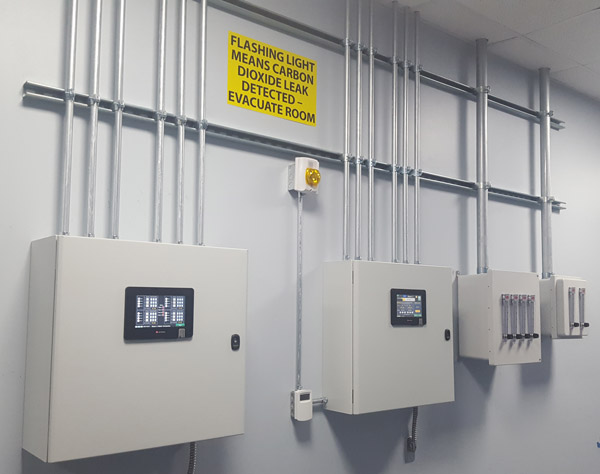 At the forefront of CO2 enrichment, Universal Grow Controls has created a proprietary, environmental control system focused on supplying your plants with all of their elemental and nutritional needs. The main controls can be managed through the user-friendly touchscreen monitor or your mobile device.
Environmental Engineering & Monitoring
Maintain an optimal environment and micro-climates with set parameters.
Our equipment is programmed to communicate with building automation systems (BAS) and HVAC systems ensuring optimal growing conditions.
CO2 Enrichment & Safety

Lighting Control

HVAC Control

Air Handlers

Fan Control

Relative Humidity

Temperature

Vapor Pressure Deficit
Messaging, Monitoring, and Notifications
Alarms and warnings

Emergency shut-off

Receive alerts via text or email

Remote access with full control

Remote engineering support
Data Recording
VPD and Light Sensors
Target optimum transpiration zones for maximum growth potential
Control Airhandlers and HVAC for each zone
Receive alerts when optimal atmospheric conditions are compromised within the grow space
Adjust the opacity and spectrum of capable lighting systems
Control lighting sequence for light and dark periods